Machiavelli and San Diego Wine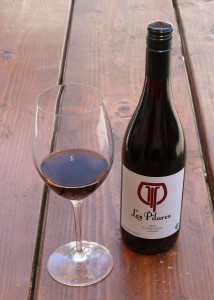 Machiavelli said, "It is not titles that make men illustrious, but men who make titles illustrious."
I say, "It is not appellations that make wines illustrious, but wines that make appellations illustrious."  But that phrase will not always be true when spoken.  It takes good wine a long time to make a grape-growing region famous. I guess about 50 years.  Maybe that's when San Diego County will be an illustrious appellation.
Wine has a long history in San Diego, probably longer than in any other part of California.  But San Diego has no reputation for wine.  Therefore, ambitious winemaking in San Diego is a very long-term project.  The project has begun.  And it's not just a twinkle in my eye.  Important wine journalists and critics are beginning to notice.
Serious winemakers here find themselves at the very beginning of something they hope will last.  For now, it's almost a blank slate.  The potential is real.  The county is vast, more than 4,000 square miles, and varied.  It includes coastal areas, of course, but also hills and mountains and valleys.  A lot of the land available for planting vines is granitic.  At higher altitudes this soil seems to produce extraordinary Mourvedre and Grenache.  Gamay might be very good here too.  We need to work on it.  There are vineyards at well over 3,000 feet of elevation.  So, altitude plus decomposed granite is typical here and, I think, special.
How good a region might it be?  Only a half century will tell.  We are beginning to have the first hints of what San Diego wine might become.  A handful of innovative and determined winemakers are trying to figure it out.  My partners and I hope to be a part of it.  Each year we try to make the great prototype, a bottle that people will hold up some day and say, "that's when San Diego found its way.  That's what wine in the area is all about."  Every step we take is into the unknown.
Taking risks is required and comes naturally in a place with no great reputation to defend and no traditions to offend.
Recently, my winemaking partners and I took a big risk that paid off.
Imagine you are an inexperienced, untrained, uneducated, unfunded group of winemakers in a region of California not currently known for good wine.  And yet in your first vintage you produce a very successful red blend that attracts nationwide praise and promptly sells out.  Miraculously you repeat that trick with the next vintage.  You know nothing about making white wine and less about making sparkling wine.  Should you employ your sparse means to make, or try to make a sparkling white wine?  The obvious answer would be "no."  Ours was "yes."
It's not like making Merlot in Burgundy.  We are utterly free to discover what can be done here.  There is no San Diego orthodoxy, no equivalent of Napa-Cab or Rioja-Tempranillo or Chianti-Sangiovese.  We can write our sonnets with no deference to iambic pentameter.
With so much freedom and a growing love for bubbly, we began to think about sparkling wine and do a little research.  A short, superficial history of methods for making sparkling wine goes like this:  Accidental Method → Rural Method → Méthode Champenoise (or Méthode Traditionelle) → Charmat Process → Gas Injection.
Accidental:  If you unintentionally put wine that has not finished fermenting in a sealed vessel, you get accidental carbonation and pressure and possibly an explosion.  Rural:  The rural method (pétillant naturel, "pet nat," or "méthode ancestrale") is really just using the accidental method on purpose, bottling wine before the primary fermentation is finished.  Traditionelle:  The Champagne method is a way to exercise more control by bottling finished wine and then adding sugar and yeast to it ("liqueur de tirage").  Other:  The Charmat and gas injection processes are cheaper, large-scale methods that I won't describe here.
In our quest for bubbles, we "invented" a hybrid of the rural method and the Champagne method.  We always use natural, wild yeast fermentation, so we didn't want to add sugar or cultivated yeast.  Instead, we chilled a little bit of the grape juice to arrest fermentation.  When the main tank finished fermenting, we added the chilled juice and bottled.  Fermentation finished in the bottle, and we had sparkling wine.  Thanks to the knowledge and connections of our friend Jeremy Parzen, we have since learned that others have begun to use the same natural technique, notably in Franciacorta (where the method is described as "revolutionary").
The result is a traditional San Diego grape, Muscat, transformed into a natural sparkling wine that smells like honey and flowers and ginger but is dry and a little tannic on the palate.  We love it and so do the critics and our distributors and customers.  We are happy to make wine in a place where there are no rules.

If we and our colleagues and our heirs can reproduce this sort of success for two or three generations, "San Diego wine" will come to mean something very good.